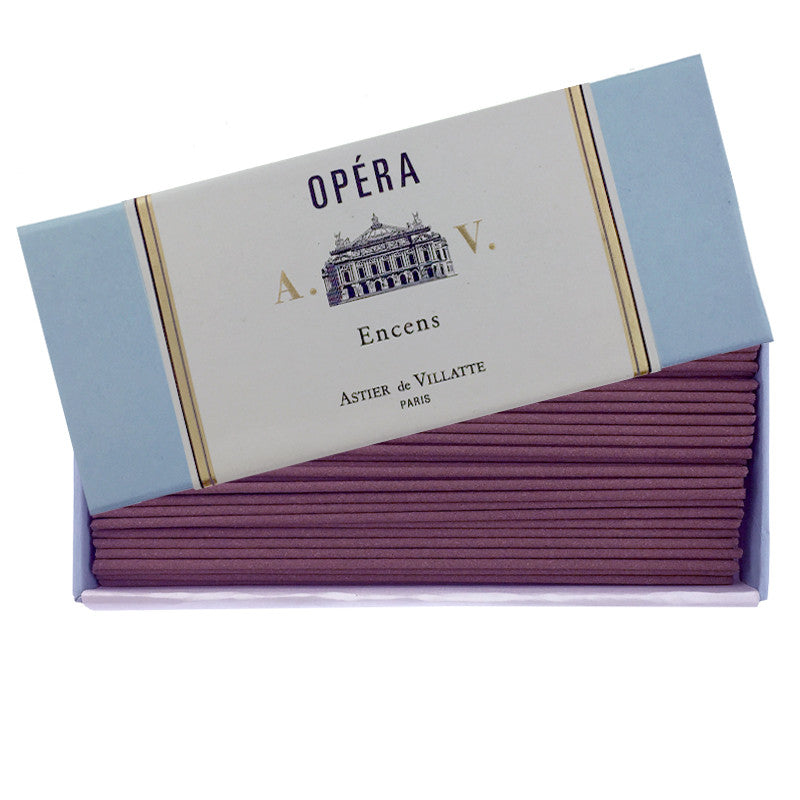 Opera - Incense (Box of 120)
---
Sale price

$ 50.00
Regular price
(/)
The splendour of the Palais Garnier. Ballet movements in the Great Hall: entrechats, pas de deux, ronds de jambes upon sumptuous parquet floors, polished with beeswax. Richly upholstered foyers reach to the very roof of the Opera, where thick streams of honey are collected from hives which spread forth giddying notes of Absolute Beeswax, rendered sublime by additions of Sandalwood and Styrax resin..

Subtly perfumed, Astier de Villatte's incense immediately bring our favourite places home, leaving long scented traces in their wake.

Its within the island of Awaji, due to its favourable climate, where one finds the best incense on our whole planet

Passed from father to son, for over a thousand years, The Koh-shis or Masters of Aromas, continue using their traditional methods of fabrication. Only they can perfectly control the four steps of production: perfect dosage of exclusively natural ingredients, precious woods, herbs and plants, vegetable resins and perfume. The kneading of the paste, which is pressed and worked for lengthy periods of time, then laid out to rest for two weeks to fully absorb of the perfumes. The cutting of the paste into lengthy ribbons, rolled by hand, then left to dry in a West Wind for three days, before binding them in sheaves.
OLFACTIVE NOTES
Benjoin, sandalwood, cedarwood, vanilla, beeswax absolute, honey
ADDITIONAL INFO
Light the end of the stick with a match, blow out the flame and leave to smoke. Plant the stick in an incense burner or a bowl of sand. Do not use in a flammable environment. Do not leave burning without supervision. Keep out of reach of children and animals.
Box of 125 sticks
Burning time approx. 30 minutes each
Made in Japan

Dimensions: 6" x 2.5" x 0.75"
ABOUT THE BRAND
Designers of furniture and white ceramics Ivan Pericoli and Benoît founded their company, Astier de Villatte, in 1996 in association with friends and family. Successor to the parisian manufactures of the 18th century, satire de village is now the only major studio to keep the tradition of artisanal ceramic production in Paris alive. In 2000, they opened the boutique at 173 rue Saint Honoré, which also presented their other creations for the home: titanium cutlery, borosilicate glassware and above all the wonderful collection of traditionally printed notebooks.
In 2008 they decided to join forces with a big name from the perfume world and together begin creating luxury scented goods. Working with their associates Emilie Massed and Françoise Caron, the star pefumer at Takasago (a Japanese fragrance company) Astier de Villatte's range of scented products was born.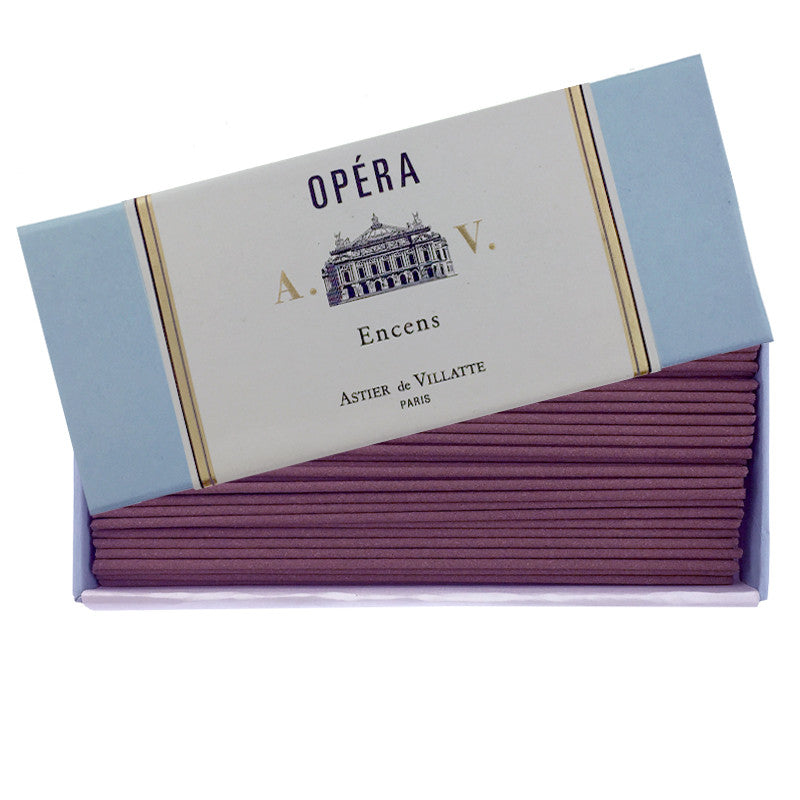 Opera - Incense (Box of 120)
Sale price

$ 50.00
Regular price
Choose options